A6024 - Heyden Moor
Across the Moor
At last the view ahead opens up to show the wild and desolate expanse of moorland - a landscape devoid of trees and vegetation, other than the many grasses that grow here. The left hand bend in the right hand picture is at Stable Clough, as marked on the OS Landranger map. Just look at that sky...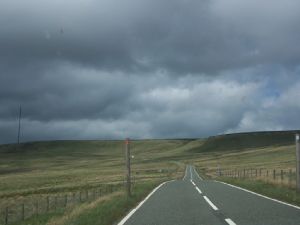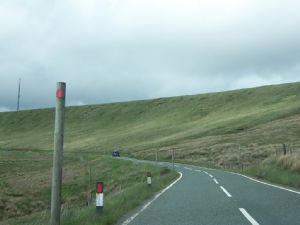 In the next picture, we are looking backwards and to the left, towards Binns Moss - the picture shows the enormity of the moorland landscape in this area. In the other picture, we are warned to beware of falling rocks as the road climbs towards Upper Heyden and the Yorkshire border.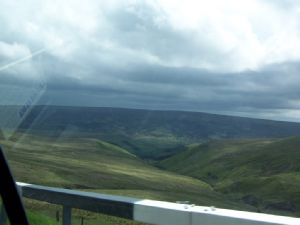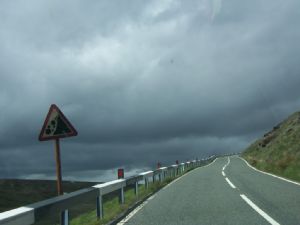 Here, we have just about reached the Yorkshire border - there's a car park and viewpoint here. But before you know it, we get advance warning of a steep hill downwards!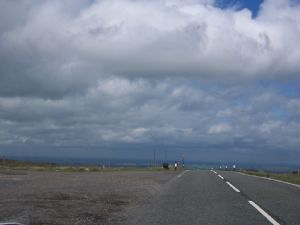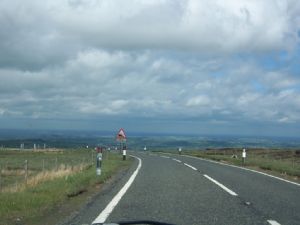 ---

A6024 Heyden Moor 1 - The climb from Woodhead
A6024 Heyden Moor 2 - Across Heyden Moor
A6024 Heyden Moor 3 - The descent from the moor
A6024 Heyden Moor 4 - Holme and Holmebridge

Rural Roads Home
---
Pictures on this page are Copyright © 2005 Chris Marshall - reproduced here with thanks.
Text Copyright © 2005 Simon Davies