The Cornish Coast
Helford Area
Helford is a pretty little village situated on the south bank of the river of the same name, at the north end of the Lizard Peninsula, here.
Whilst the central part of the Lizard is a large plateau, with poor soil, leading to a lack of decent vegetation, the north coast has lots of wooded valleys leading down to the Helford River.
If you want to drive on the roads shown on this page, you'll need to come in the winter - as the first picture shows, cars are restricted during the summer months. But to be honest, this is a road best enjoyed on foot.
The first two pictures are taken at the entrance to the car park - one looking at the signs and the second looking back up the hill and out of the village.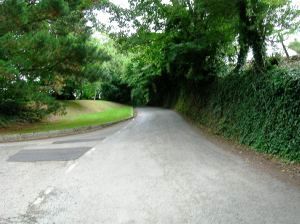 From the car park, the road descends towards the river. It is narrow and lined with trees. To the right, views of the river open up. This is a tributary of the River Helford rather than the main river estuary. Nevertheless, it is tidal.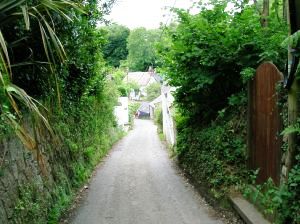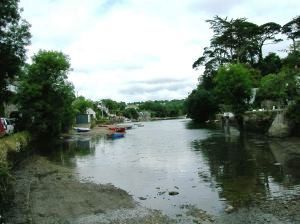 Soon we reach a ford, where we can cross the tributary stream. The ford is now featured in Wet Roads. There is a footbridge for pedestrians so you don't need to get your feet wet.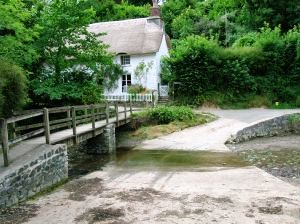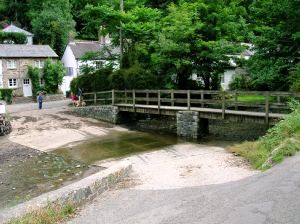 We are now on the west bank of the river, north of the Ford. The road continues onward, past more cottages, including a shop which sells the excellent Roskilly's ice cream. Worth a trip down here, just for that. Eventually the road runs out, but never fear, you can take what must be one of the smallest ferries in the world across the main Helford River to Helford Passage.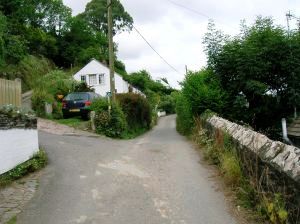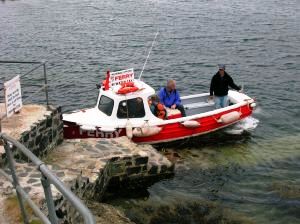 ---
Cornish Coast - Intro to the Lizard
Cornish Coast - Coverack
Cornish Coast - Helford
Cornish Coast - Kynance, Lizard and Kennack
Cornish Coast - St Keverne
Cornish Coast - Penzance, Newlyn and Mousehole
---
Copyright © 2005 Simon Davies