The Cornish Coast
Newlyn and Mousehole
These are the photos that didn't really fit in anywhere else on the Cornwall pages, largely because they are not on the Lizard Peninsula.
We took a trip west of Penzance, which didn't really turn out as planned because we spent rather more time than we had hoped looking for a wetsuit to fit my son. Nevertheless, we did visit Newlyn and Mousehole (pronounced Mowzle). You can see this area on a map here.
The first picture shows Newlyn Harbour. This place is quite significant to those people who like to spend their time Munro-bagging in Scotland. How can this be, when we are about 750 miles from the Highlands? If a Munro is defined as a mountain in Scotland of at least 3,000ft in height, then you need to know where the 3,000ft is measured from to know whether a mountain is a Munro or not. (Yes, I know that there are other criteria as well as absolute height). Newlyn Harbour is important because the Ordnance Survey measure altitude from the mean sea level in Newlyn Harbour. And this is it. As a result of all this expectation, I was underwhelmed when I got here. It is a large fishing harbour / port rather than the more quaint type of harbour found at Coverack.
The second picture is taken in the village of Mousehole, to the south of Newlyn - an altogether mroe agreeable place than its neighbour.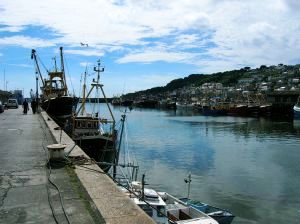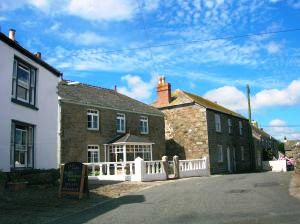 The next two pictures show Mousehole Harbour, one looking north(ish) and the second looking south.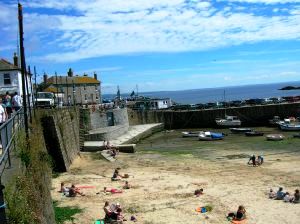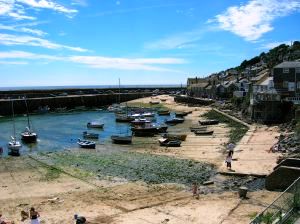 In the final two pictures we are climbing out of the village.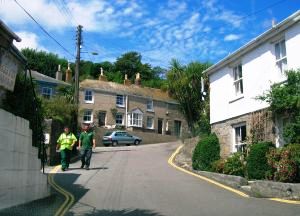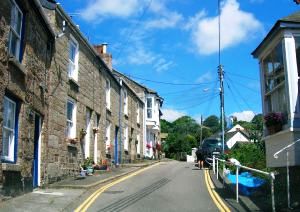 ---
Cornish Coast - Intro to the Lizard
Cornish Coast - Coverack
Cornish Coast - Helford
Cornish Coast - Kynance, Lizard and Kennack
Cornish Coast - St Keverne
Cornish Coast - Penzance, Newlyn and Mousehole
---
Copyright © 2005 Simon Davies