The Cornish Coast
St Keverne
The village of St Keverne is a lively, vibrant community situated towards the east coast of the Lizard peninsula. We stayed in the village during our week in Cornwall. During that week, the village brass band had organised a festival day, the main feature of which involved the roasting of an ox in the village square. But more of that later.
The village is situated at the eastern end of the B3293, about a mile from the sea, as shown here. We'll come back to the village square later, but we start on the minor road just to the north-west of the village square looking westwards. The road is narrow at first, as we pass this white-washed cottage, but soon it broadens out as we go down the hill into a small valley. The second photo doesn't do much to show you that you are heading into a valley so you'll just have to believe me.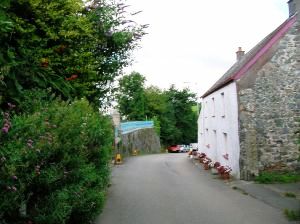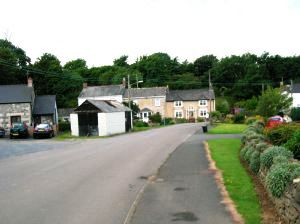 In the photo above, you can see a white building on the far right, which also features in the next two photos, the first looking north, by the spot height of 69m on the map, and the second looking south. These buildings mark the edge of the village, and it was down a lane to the east from here that we stayed, in Tregoning Manor cottages.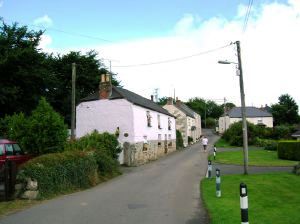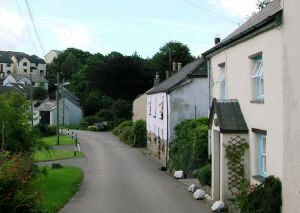 The next photo is taken from the village square looking west onto the B3293. Note the sign post and old telephone box. The second photo is taken from the same location, looking south, and is intended to give another impression of how narrow some of the streets are.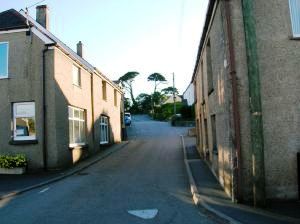 In the next photo we see the entrance to the village square from the B3293. The square is dominated by the village church, though there are two pubs there which also play a major part in village life. The second photo looks east across the square to the Church.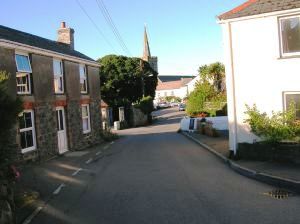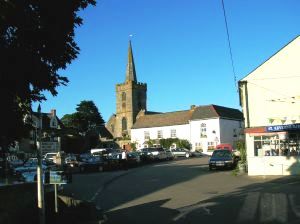 The final two photos show evidence of the Ox Roast day. In the first, the square is performing its usual role as village car park, but ther beer tent for Ox Roast day is there. Finally, we see the ox being roasted on a spit outside the Church. Apparently, they started roasting at around 9:00am, and the first slice was carved at about 2:30pm, and was auctioned off for charity, fetching several hundred pounds!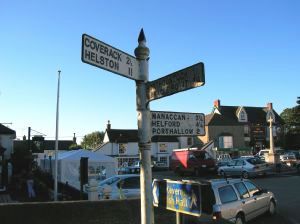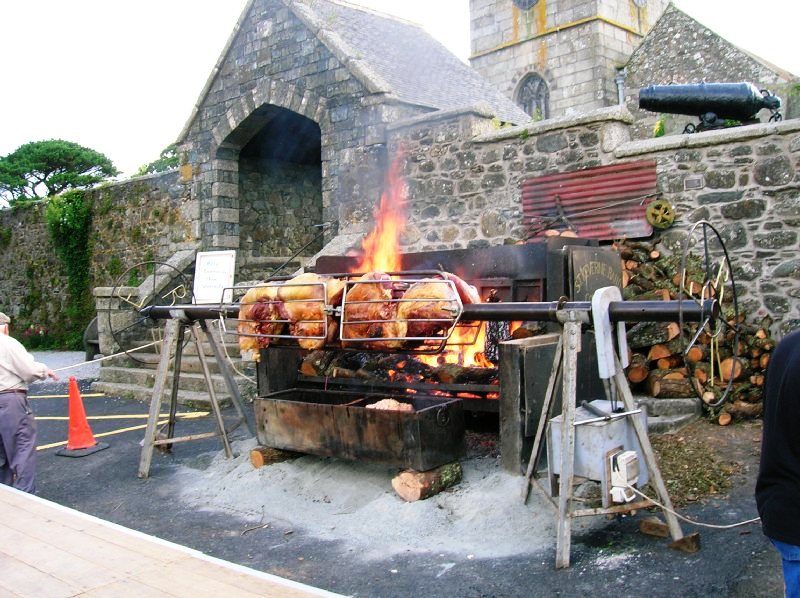 ---
Cornish Coast - Intro to the Lizard
Cornish Coast - Coverack
Cornish Coast - Helford
Cornish Coast - Kynance, Lizard and Kennack
Cornish Coast - St Keverne
Cornish Coast - Penzance, Newlyn and Mousehole
---
Copyright © 2005 Simon Davies