The Cornish Coast
Kynance, Lizard and Kennack
In this page, we are moving to some of the coastline and beaches around the south coast of the Lizard, starting with Lizard Point itself. You could park in Lizard village, but to the south there is a National Trust Car Park near the lighthouse which is more convenient if your sole objective is to 'do the southernmost point'. I've never been to Land's End so I can't compare the two places fairly, but whilst Lizard is busy, and has a gift shop selling southernmost point souvenirs, it is nothing like as commercialised as I understand Land's End to be.
In the first photo, we are standing at the southernmost point, looking slightly north-west at the coast extending towards Kynance Cove. This brings us on to the subject of the second photo, Kynance Cove, a popular and attractive beach owned by the National Trust, accessible, according to the map, via a toll road. All I can say is that at 7:00pm on a Sunday evening at the end of July, it was all free.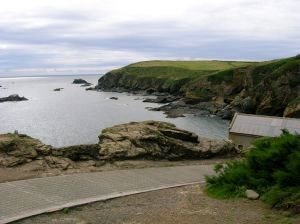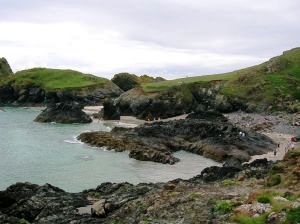 The next two pictures were taken at Kennack Sands, which is here. The approach to the beach is down a narrow hill, which can ve seen in the middle distance in these two photos. If you get there early enough, you can park at the side of the road, otherwise you will need to pay to use the large car park.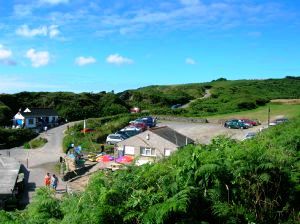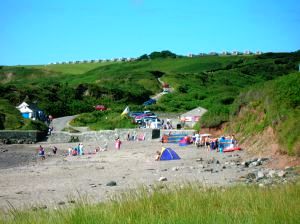 Kennack Sands is actually two large sandy beaches. These photos, both of the west beach, were taken fairly early in the day, around 10:00am. Later, the west beach was crammed full of people. The east beach, which is perhaps a 5 minute walk away, was much emptier.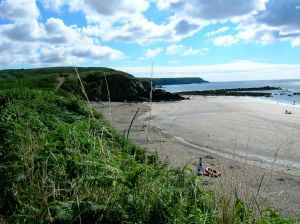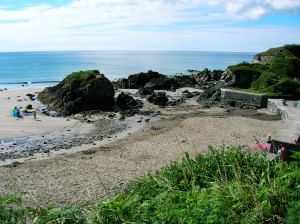 This is the east beach.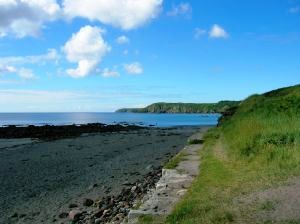 ---
Cornish Coast - Intro to the Lizard
Cornish Coast - Coverack
Cornish Coast - Helford
Cornish Coast - Kynance, Lizard and Kennack
Cornish Coast - St Keverne
Cornish Coast - Penzance, Newlyn and Mousehole
---
Copyright © 2005 Simon Davies