The Exmoor Coast
The Impenetrable Coast of Exmoor
The Exmoor coast is one of the most inaccessible coastlines in Britain. Between Porlock Weir and Lynmouth, opportunities to reach the coastline are few and far between. Furthermore, even if you had a small boat, the places you could land it are also few and far between. The Exmoor National Park website reports that there is no landward access to the six mile stretches of shoreline from Combe Martin to Heddon's Mouth and Countisbury to Glenthorne, and it is to the latter of these two sections of coast that we come now.
The coastline is heavily wooded, but we don't see much of that because of its inaccessibility. Nor do we see much evidence of the second highest tidal range in the world, which can be experienced in the Bristol Channel. This is because the one road through the area remains inland at a height of around 1200 ft. Incidentally, the cliffs in this area are the highest sea cliffs in England.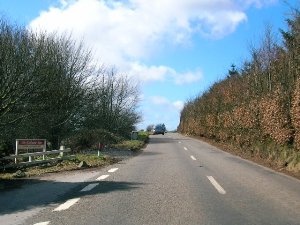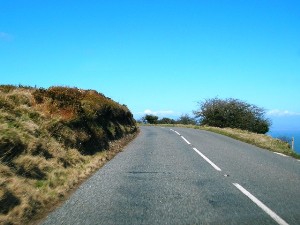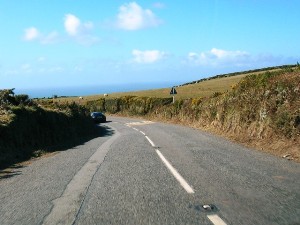 In the second picture above we catch a glimpse of the sea, far below us to the right. But, as the third picture shows, we are still a fair distance inland. We are in National Trust territory now - this is Countisbury Common.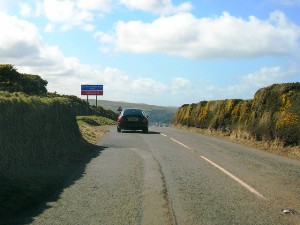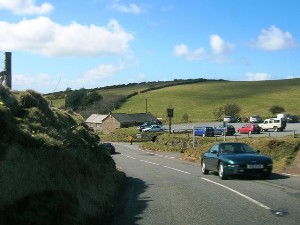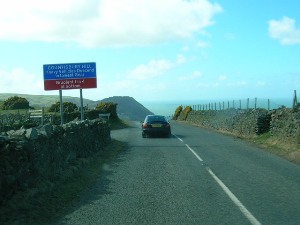 Eventually, these cliffs give way to the Lyn Gorge, site of the small town of Lynmouth, situated at sea level. To get there we have to descend the 1 in 4 Countisbury Hill – steep, but nothing like the ordeal of Porlock Hill as it doesn't have the hairpin bends we experienced on the way up. We pass a pub (and car park) before the sea views open up fully on the right hand side.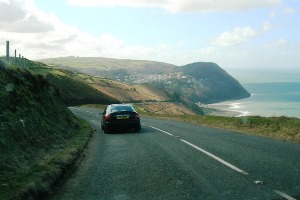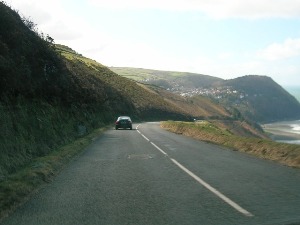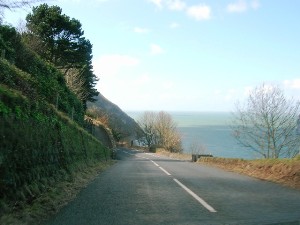 As with the climb up Porlock Hill, the pictures don't really show how steep this hill is. However, they do show that the road is much more open than Porlock Hill. The first and second pictures show Lynton, on the cliff top in the distance.
---
Exmoor Coast - Introduction
Exmoor Coast - West from Minehead
Exmoor Coast - Porlock Village
Exmoor Coast - Porlock Hill
Exmoor Coast - From Porlock Hill to Devon
Exmoor Coast - The Impenetrable Coast
Exmoor Coast - Lynton and Lynmouth
Exmoor Coast - The Lynmouth Flood
Exmoor Coast - Lynton and Lynmouth Cliff Railway

---
Copyright © 2006 Simon Davies