The Exmoor Coast
Lynton and Lynmouth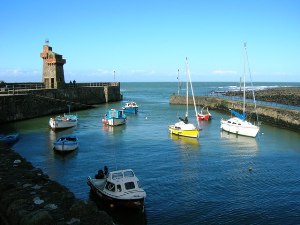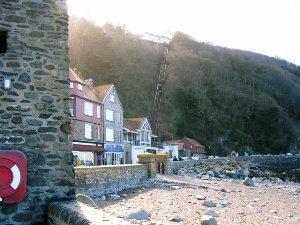 Separated by a 600 foot cliff, and linked by a working funicular railway, the twin villages of Lynton and Lynmouth are a jewel in the north Devon coast. Here, the hills of Exmoor give way to the small harbour at Lynmouth, surrounded by hotels, cafes, restaurants and shops. Lynmouth is situated at the bottom of the Lyn Gorge, which allows the East and West Lyn rivers to reach the sea. A short walk up the Gorge leads to Watersmeet, which is where the East Lyn and West Lyn combine. There is a pretty little harbour, situated next to the mouth of the river.
A trip up the cliff railway takes you to Lynton, a small but pleasant town situated on the cliff top. The railway can be seen in the photo of the sea front at Lymouth, rising steeply up the cliff face.
Although the other end of the country, Lynton reminded me of Hartbeat country, but that might just be because of the Morris Minor parked outside the Cottage Hospital.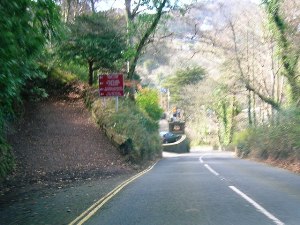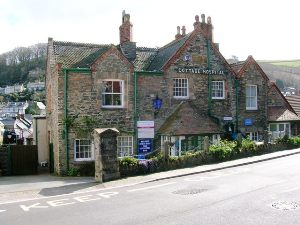 The first picture on this page shows the escape lane on the A39 at the bottom of Countisbury Hill as we head into Lynmouth. There'll be more pictures of this hill from the Lynmouth end later, but in the mean time we take a trip up the cliff railway to Lynmouth, where we see the cottage hospital.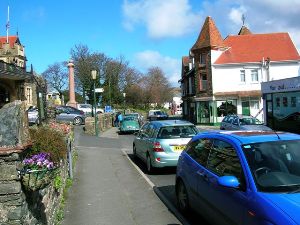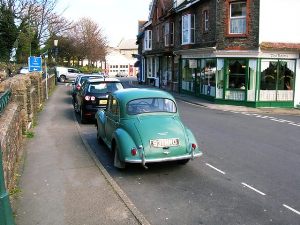 Here, we are looking west along the main street in Lynmouth from the cottage hospital. It seemed appropriate that parked just down the road from the cottage hospital was an old Morris Minor - both symbols of a previous age.
---
Exmoor Coast - Introduction
Exmoor Coast - West from Minehead
Exmoor Coast - Porlock Village
Exmoor Coast - Porlock Hill
Exmoor Coast - From Porlock Hill to Devon
Exmoor Coast - The Impenetrable Coast
Exmoor Coast - Lynton and Lynmouth
Exmoor Coast - The Lynmouth Flood
Exmoor Coast - Lynton and Lynmouth Cliff Railway

---
Copyright © 2006 Simon Davies